Join Now or Renew Five Rivers Membership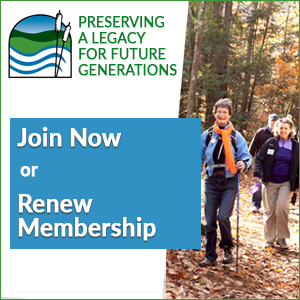 Your membership in Five Rivers Conservation Trust helps us respond to the increasing number of worthwhile land protection projects in the region and makes you a critical part of our work, even if you don't have land of your own to conserve. You can be part of something that lasts forever, when you become a member.
It's easy to become a member today! Complete the membership form below and pay online at PayPal. Every donation makes a difference! Feel free to indicate an amount different than those below. Note that when you pay online with PayPal, you may use either your own credit card number OR a PayPal account.
If you prefer, you may download and print our membership slip and mail it in with your check to:
Five Rivers Conservation Trust
6 Dixon Ave, #201
Concord, NH 03301
Gifts of Stock or IRA Distribution – If you would like to join Five Rivers or renew membership, giving shares of stock or mutual funds may allow you to take full advantage of your investment earnings by avoiding the tax on your capital gains. Alternatively, if you are 70 ½ or older, you can roll over up to $100,000 from an IRA directly to a qualifying charity without being taxed. Click here for more information on both these options.
Gift memberships are also available: if you would like to purchase a membership for someone else please let us know and we will send them a special card.
Your membership contribution is tax-deductible. If you have questions, please contact us at 603-225-7225 or at info@5rct.org. Thank you for your support!
Online Membership/Renewal Form