Concord – Dimond Hill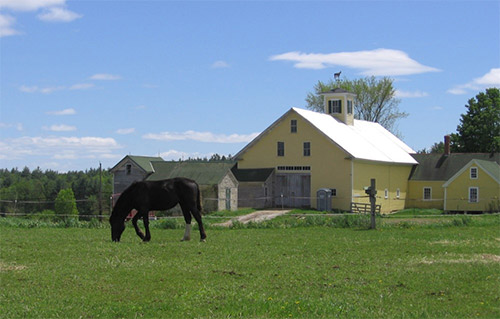 Trail Map
Hopkinton Road
Farm easement: 74.8 acres of fields, forests, and wetlands – with recreational trail
Forest easement: 34.3 acres of forest and brook – with recreational trail
Public access
June 2006
Dimond Hill Farm is one of the premier farm landscapes in the region. A working farm since the late 1700s, it consists of large open fields, both north and south of Hopkinton Road in Concord. Sitting atop a sloping hillside, the farm has panoramic views, and it serves as a visual milestone for travelers entering and leaving the city.
Under special conservation easements signed in June of 2006, the farm will remain a working farm, with Equity Trust serving as the owner and NH Preservation Alliance serving as the Historic Easement holder for the farm buildings.
Five Rivers Conservation Trust holds conservation easements for both the 74.8 acre Farm Easement portion and the 34.3 acre Forest Easement portion of the property.
The farm consists of open fields, an historic barn, and several greenhouses. Located on the Farm Easement is a wetland with nesting ducks, as well as a hidden, very-attractive field of wildflowers near the south border. On the north side of Hopkinton Road are pastures, a clearing with nice views, and forests of pine.
Also on the north side is the property's 34-acre Forest Easement. It consists of a mixed hardwoods and softwoods, graced by a huge old ash tree near one of the property's many stone walls. Traversing this Forest Easement section is Ash Brook, a hemlock-lined stream that tumbles its way downhill. A unique structure is an old ice pond dam of granite slabs, a structure used to collect ice in the winters which was sawed, stored under sawdust in a barn, and used during the summers.
Traversing the entire property is an attractive trail used by walkers, snowmobilers, skiers, and horseback riders. A variety of wildlife abound throughout this interesting property, including deer, fox, and many species of birds.