Concord – Maplewood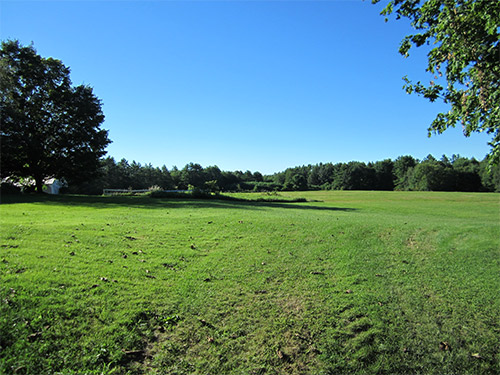 Stickney Hill Road
78 acres of open fields
Public access, no formal trails
December 2012
Situated at the top of Stickney Hill, on land first settled in 1807, Maplewood Farm has been in the Bunten family for three generations. The now elderly owners, Bill and Wayne, grew up milking cows and haying the fields as part of the dairy operation run by their father. Although the Buntens no longer have a working farm, their land is still part of the local farm scene.
Bohanan Farm (another Five Rivers conservation property), which is nearby, hays the Maplewood fields to feed its dairy herd. Stickney Hill Road runs through an historic agricultural district on the border of Concord and Hopkinton that has remained tranquil and undeveloped.
Bill and Wayne planned to retire after selling the farm but wanted to honor their father's wishes to preserve the fields. Five Rivers worked with the neighbors, City of Concord, and the National Resource Conservation Service to raise the necessary funds to buy an easement. Under the terms of the conservation easement, Maplewood's fields can never be developed or subdivided.
The easement protects the land on both sides of the road. Across from the farmhouse there is a large hay field with a view of the mountains to the west. Behind the house is another large field flanked by forest stretching back to I-89. There is also a small wetlands area in the northeast corner of the parcel. Currently, there are no trails on the property because the fields are still in use. However, Stickney Hill Road is just off of Concord's walking/biking trail that runs parallel to the highway and Maplewood Farm is a beautiful sight for those passing by – as it always will be.