Concord – Swope Park
Trail Map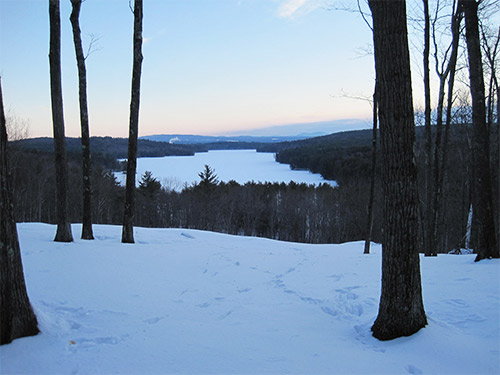 Long Pond Road
77.2 acres
Public access
December 2011
For many years John and Marjory Swope lived on Long Pond Road and the area that was their backyard is now the park. Back then there were a few woods roads and rough trails that the family and their neighbors frequently used for walking, jogging, and cross-country skiing. When Marjory passed away in 2007, John decided to donate the land to the City of Concord to create a place that people could enjoy as a memorial to her. Marjory was a long time member of the City Council and served as the chair of the Concord Conservation Commission. The city welcomed the offer.
John Swope entrusted the easement of the park to Five Rivers to ensure that the land would be properly maintained. The park was dedicated and "officially" opened in June 2012.
The City of Concord worked with the Swope family, Five Rivers, and St. Paul's School to create the park that can be visited today. There are three connecting trails that are open for non-motorized recreation such as walking and biking. There is a loop trail (1.45mi) up Jerry Hill, marked in blue, leading to one of the best views of Penacook Lake. The yellow trail (0.56mi) cuts through the park from north to south and goes past the foundation of an old observation tower. From the center of the yellow trail cutting west to the blue trail is the orange trail (0.18mi) that will take you past a large granite outcrop called Gilfillan Rock.
Marjory Swope Park serves as the gateway to an already considerable area of land conserved by the State, City of Concord, Society for the Protection of NH Forests, St. Paul's School, and Rossview Farm. There is a plan to someday connect these properties to create many miles of uninterrupted hiking. John hopes that as people walk through the park, they appreciate the uniqueness of our state capital — to be able to enjoy a downtown with restaurants and a movie theater and, not five miles away, find trails to get out and explore the natural world.