Concord – Pierce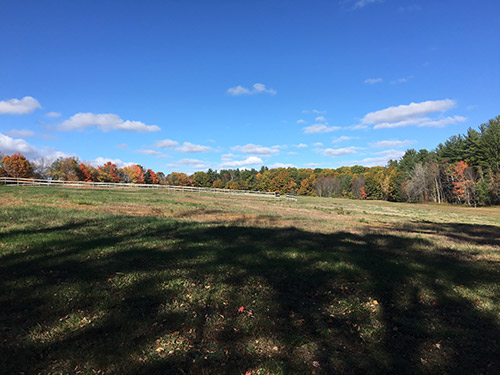 Stickney Hill Road
18 acres of open fields
No public access
August 2016

The Pierce property is a key part of the "Stickney Hill Agricultural Neighborhood", as defined by a 2008 report by New Hampshire Division of Historical Resources for the Concord Heritage Commission. The report states the neighborhood retains "an exceptionally high degree of integrity of location, design, materials, setting, workmanship, feeling, and association." It is very unusual to have such an intact historical agricultural area, especially one within the city limits of a major city. The neighborhood has been a conservation priority, in part because it provides a unique window into the City's agrarian roots.

The Pierce farm is one of three farms with open fields that define the Stickney Hill Agricultural Neighborhood. In 2012 Five Rivers Conservation Trust and the City of Concord purchased a conservation easement on Maplewood Farm, which lies immediately east of the Pierce farm. In 2013 Hope Butterworth donated a conservation easement on her farm, to the west of the Pierce farm.

The Pierce farm is very visible in the center of the agricultural fields and was the last, critical piece to be protected.

Stickney Hill Road is located in an isolated part of Concord, cut off from the rest of the city by Turkey Pond and Route 89. Access is by Exit 4 off Route 89 and also by the bike path and bike bridge beside Route 89. The area is heavily used by cyclists, walkers, and runners due to the open, scenic landscape and rural, 19th century feel of the neighborhood. The Pierce field is highly visible from Stickney Hill Road.