Five Rivers Land Protection Policy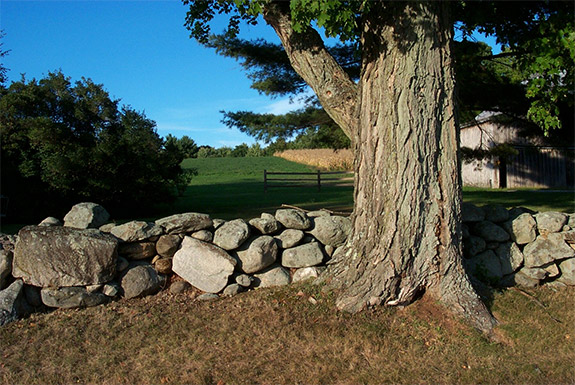 Our mission is to preserve and protect important open space lands in seventeen towns within five New Hampshire river watersheds for present and future generations.
Five Rivers Conservation Trust works on a voluntary basis with willing landowners to protect important open space lands through conservation easements and fee simple acquisitions, typically by donation but, when necessary and feasible, through purchase.
Five Rivers operates independently and in partnership with municipalities, public agencies, and other land conservation organizations.
Land Protection Project Selection Criteria
The following are criteria which weigh in favor of Five Rivers undertaking a land conservation project:
Enhances other existing protected land by expansion or linkage.
Has important frontage on a major water body.
Contains or protects significant water resources such as streams, ponds, wetlands, aquifers or drinking water sources.
Contain productive forest or farm land.
Supports habitat for rare, threatened, or endangered animal or plant species, contains an exemplary natural community, or provides significant wildlife habitat.
Contains a portion of a major trail corridor, or has significant public recreation opportunities.
Provides a scenic view from a public road, trail or water body.
Contain important cultural, historical, or archaeological resources.
Serves as a focus for future land protection efforts.
Facilitates other land protection projects.
Promotes or links conservation efforts between adjacent municipalities.
Identified by a community or regional master plan as being worthy of protection.
Has significant community support.
Necessary funds are available from the land owner, public or other sources.
The following are criteria which weigh against Five Rivers undertaking a land conservation project:
The presence of contamination from petroleum products or other hazardous materials.
The project presents substantial challenges for perpetual stewardship and monitoring.
The project raises concerns about our public image or presents ethical issues.
The project has significant community opposition.
Protection could be provided in another way or by another organization more effectively.
We lack the capacity to take on the project.
Proposed reserved rights are incompatible with conservation goals.
Protection of the property presents a private inurement issue.
Existing or proposed land use or development of abutting properties would be incompatible with the conservation values of the proposed protected property.
There are unusual or complex legal and/or tax issues to be resolved including but not limited to:

Significant concerns about intended tax deductions.
Difficulty subordinating a mortgage.
Title issues.
All of the preceding notwithstanding, The Board of Trustees retains discretion over acquisition or disposition of land conservation projects and will review each on a case-by-case basis. All proposed land protection projects must be approved by the Land Protection Committee of the Board of Trustees and the full Board prior to acceptance by Five Rivers Conservation Trust.