Dunbarton – Burack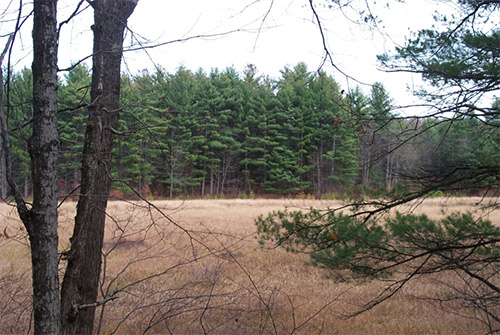 Black Brook Road at the Goffstown town line
67 acres of forest with extensive wetlands and brook frontage
Public access, no formal trails
May 2000
The Burack-Cathcart easement in Dunbarton has 1,000 feet of road frontage, providing scenic views of an open-water beaver marsh and the abundant wildlife it attracts, including moose, beaver and migrating waterfowl.
The property supports a wide diversity of both wetland and upland habitat. The upland portions are dominated by knolls forested with mature mixed hardwoods, hemlock and mixed softwoods.
In the 1990's the property was nearly developed as a residential subdivision. Two abutters, assisted by the community were able to purchase the property from the developers. They subsequently established a conservation easement with Five Rivers Conservation Trust to protect wildlife habitat, while allowing recreation and limited forestry.