Gilmanton – Perkins Farm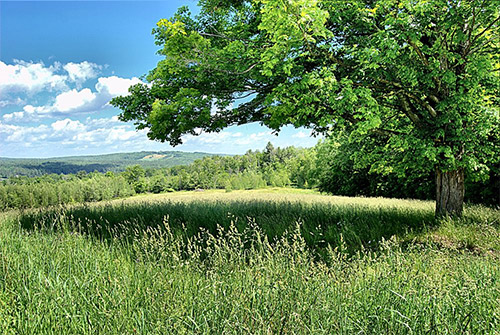 Perkins Road
15 acres
Public access, no formal trails
May 2009
The Perkins Farm, consisting of two parcels, area one and area two equating to 30 acres, is located off of Perkins Road in Gilmanton. The property was trusted to Five Rivers in May of 2009. Both areas, making up the easement, consist of bushy vegetation and a wooded area, enclosed by stonewalls and stone piles on the perimeter.
Area one has direct access to a dirt road leading back to Perkins Road. A woods road runs through Area two and is used as a snowmobile trail in the winter. The trail is used and maintained by the Gilmanton Snowmobile club.
The woods road connects Area two with two nearby conservation easement lots totaling 294 acres.
The property has undeveloped frontage on Perkins Road allowing for distant view of the Belknap Mountains. The Wildlife Action Plan stated the property to be a supporting landscape to the existing conservation area. The property also contains productive soil for agriculture as well as forestry; it also guarantees public access for outdoor recreation and education.