Gilmanton – Twigg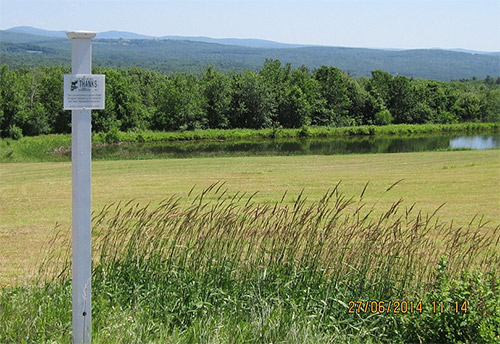 Route 107, Loon Pond and Meetinghouse Pond Roads
85 acres of fields and forests
No public access
December 2013
Four protected properties
The properties, formerly owned by long-term Gilmanton resident George Twigg, III, have been conserved for agriculture and public enjoyment, under conservation easements held by the Five Rivers Conservation Trust. Gilmanton Land Trust, a local organization, undertook the project, in cooperation with Five Rivers, to raise the nearly $1.2 million needed to secure the future of four key properties owned by Mr. Twigg, including the views long admired by residents and travelers through the town.
The land conserved includes four parcels:
The 15-acre tract on the top of Frisky Hill (Route 107) with views to the north and east over fields, hills and the Belknap Mountains
A 21- acre parcel, also on Rt. 107, looking northerly over Loon Pond to rolling hills and Mount Kearsarge beyond
An 8-acre field on Loon Pond Road providing access to a cemetery once used by the Osgood family
A 41- acre tract of fields and forests with extensive frontage on Meetinghouse Pond across from the historic Smith Meetinghouse complex. This parcel includes a flax retting pond, where farmers prepared flax for weaving into cloth in the early 19th century. The extensive stone structure built across the pond's bottom for processing flax is the only known example of such a feature in the State of New Hampshire.
The Frisky Hill view toward the Belknaps and the Meetinghouse Road parcels are now owned by the Town of Gilmanton (subject to conservation easements held by Five Rivers) under the stewardship of the Conservation Commission.