Henniker – Chase Brook
Flanders Road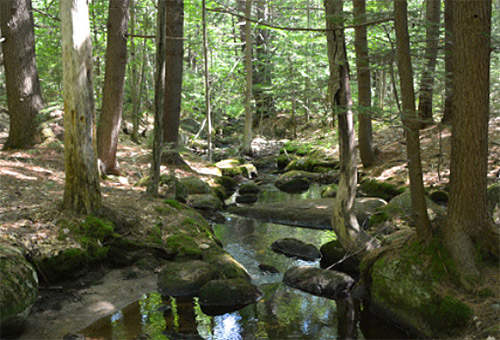 61 acres
Public access, no formal trails
January 2009
Five Rivers' Chase Brook Easement is located south of the Henniker town center. This 61-acre wooded conservation area includes a portion of Chase Brook, which is a tributary of the Contoocook River. There is a 0.6-mile main trail that runs roughly north to south through the property and is maintained by the Henniker Trail Travelers snowmobile club. The trail ascends gradually from the access point on Flanders Road and continues off the easement onto private property.
The forest consists of a diverse mixture of coniferous and deciduous trees. Sunlight trickles through the canopy, and ferns and wildflowers cover the forest floor. When you go, keep an eye out for Jack-in-the-Pulpit flowers whose clustered green berries turn bright red in late summer and fall.
Off-trail explorations will lead you to hills and boulders to the east and Chase Brook to the west. The brook is easy and fun to explore for both adults and children. Follow the brook upstream and you will find deeper pools to sit by in quiet contemplation or just for a good foot soak! This is a wonderful place for all to enjoy! Parking is along the road near the junction of Flanders and Craney Hill Roads.