Hillsborough – Thomas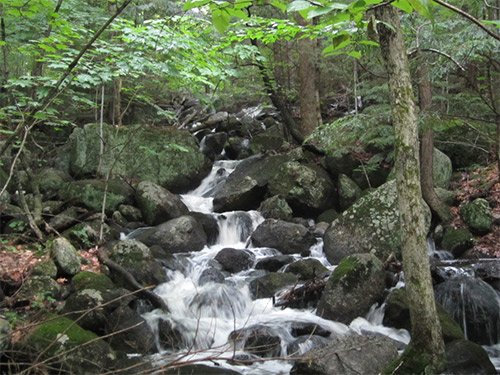 Gleason Falls Road
113 acres of forests and a marsh and abuts the scenic Gleason Falls conservation area owned by the town
Public access
July 2012
In the 1970s, Hope Thomas and her husband purchased a large tract of land across from her house on Gleason Falls Road in Hillsborough. The sheep she raises pasture in the first field but behind that, stretching back for many acres, are the woods that make up the bulk of the easement.
In the south-east corner of the property is a large pond that Hope affectionately calls the "swamp." Herons and beavers live here; you can see the gnawed and felled trees left by the beavers near the banks. The pond itself empties into a stream that tumbles down through the property until it joins with Beard Brook.
To the west, down the road from Hope's house there is an old woods road that takes you to the pond. Watch out for trails that seem promising but peter out. The woods road forks at one point and the right fork leads to the brook. Today, it has become overgrown with no clear path forward. The left fork leads up a hill and eventually to the pond. In the winter, you can snowshoe the trails.
Hope has hired a forest manager and there is ongoing logging activity. Some trees are marked with paint to be harvested, don't assume that they mark a trail. Hope wants people to use the trails; all she asks is that you check in when you start and take all your trash when you leave.
The easement placed on Hope's land has the additional benefit of connecting to land already conserved by the Society for the Protection of NH Forests, assuring that a valuable woodlands and water resource remain untouched by development.