Join Our Conservation Leaders Society (CLS)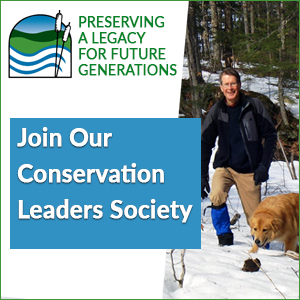 Conservation Leaders provide essential ongoing support to sustain Five Rivers as a successful organization. Members of the Five Rivers Conservation Leaders Society pledge to give a minimum of $1,500 each year for three consecutive years. These donations are considered a gift toward the Annual Fund.
Click here to view/download our Conservation Leaders Society brochure.
Join our Conservation Leaders Society now! Complete the online membership form below and pay at PayPal. Note that when you pay online with PayPal, you may use either your own credit card number OR a PayPal account.
If you prefer, you may download and print our Conservation Leaders Society membership slip and mail it in with your check to:
Five Rivers Conservation Trust
6 Dixon Ave, #201
Concord, NH 03301
Gifts of Stock or IRA Distribution – If you would like to become a Five Rivers CLS member, giving shares of stock or mutual funds may allow you to take full advantage of your investment earnings by avoiding the tax on your capital gains. Alternatively, if you are 70 ½ or older, you can roll over up to $100,000 from an IRA directly to a qualifying charity without being taxed. Click here for more information on both these options.
Please note that regardless of method of payment, we request that each CLS member sign and return a pledge form for our records.
Your membership contribution is tax-deductible. If you have questions, please contact us at 603-225-7225 or at info@5rct.org. Thank you for your support!
Online CLS Membership Form
I pledge to provide sustaining support to Five Rivers annually for three years as follows: