Loudon – Cabot/Sanborn Rd.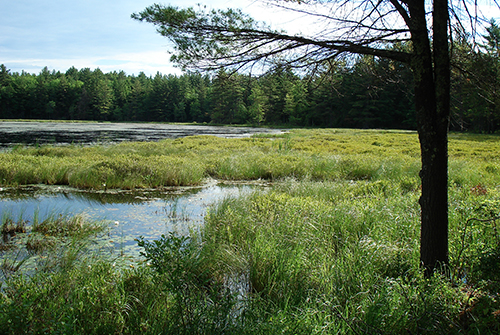 Sanborn Road
38 acres of outstanding wildlife habitat, with half a beaver pond surrounded by wetlands and upland forest
No public access
July 2016
Thanks to the conservation commitment and generosity of Colin Cabot, a critical parcel of land has been conserved. The property includes half of a beaver pond surrounded by wetlands and upland forest. The easement conserves 3,500 feet of water frontage of the pond. It also conserves 1,250 feet of undeveloped frontage on Sanborn Road, an undeveloped road which is used for outdoor recreation year round.
The property abuts other conserved land including the 730 acre Osborn Wildlife Management Area which includes the other half of the pond and road frontage across from the Cabot land. The easement ensures continued public access to this outstanding natural area.
"The conserved property has outstanding wildlife habitat due to the combination of water, wetlands, vernal pools, upland forest and adjacent conserved land," observed Lee Carbonneau, a nearby resident, wetland scientist and wildlife biologist. Over many years of walking the property, Ms. Carbonneau has seen the following wildlife either on the property or nearby including moose, deer, coyote, fisher, otter, gray fox, painted turtle, great-blue heron, wood duck, pileated woodpecker, yellow-bellied sapsucker, barred owl, broad-winged hawk, hermit thrush, veery, a variety of wood warblers and many other species.