Loudon – Holt Pond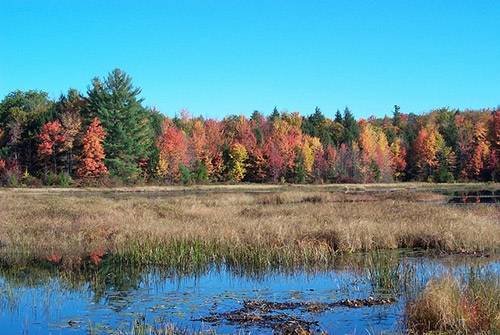 Currier Road
91 acres of fields, forests, and large beaver pond
No public access
December 2007
Thanks to the conservation vision of Loudon resident Colin Cabot, a spectacular 91-acre spread of productive fields and woodlands, coupled with a beautiful hidden pond set deep amidst the forest, has now been protected in perpetuity.
Perched along the side of Clough Hill on Currier Road, the property includes a 20-acre field, a remnant of New Hampshire's agrarian past.  Located near an active, working farm, the open field commands sweeping views of distant hills and valleys. A pathway through the property's forestland leads to Holt Pond, a large waterbody of about 45 acres.
This undeveloped jewel plays host to a variety of species of ducks and other waterfowl. It is a still and silent place, an unspoiled part of the New Hampshire countryside.  This is an outstanding piece of central New Hampshire land, and the donation of a conservation easement in 2007 has provided the community of Loudon with a legacy of its natural and cultural heritage that will be increasingly valued in the years ahead.