Loudon – Sleeper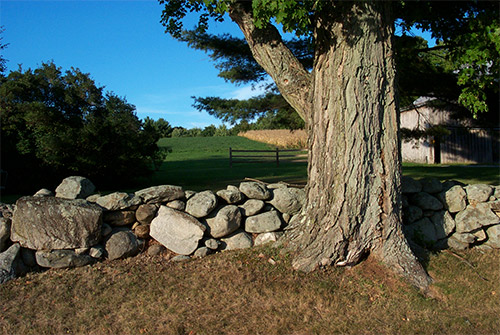 On Loudon Ridge Road and Page Road
92 acre farm consisting of fields, pasture, mixed forest, and wetland
No public access
October 2007
Perched alongside Loudon Ridge Road in Loudon, with a sea of New Hampshire's hills and valleys stretching to the horizon, the Sleeper farm has been continuously owned by the Sleeper family for six generations.  The farm will remain undeveloped thanks to a 93-acre conservation easement that the family donated to Five Rivers Conservation Trust.
After the death of Edwin Sleeper in 1999 and Katherine Sleeper in 2006, the farm was owned by the Katherine Sleeper Trust.  The Sleepers held a strong conservation ethic and wanted to ensure that the property remain intact for future generations.  Family members worked with Five Rivers to make sure that their parents' wishes were honored, and in 2007 they placed a conservation easement on the property.  The easement ensures that the farm's open space will never be subdivided.
Extensive fields and forests grace this magnificent acreage.  Crops are grown on prime agricultural soils, sheep graze on rich grassy slopes, and a large woodlot is carefully managed for its harvestable timber.  With frontage on both Loudon Ridge Road and Page Road, the farm has distant vistas upon the broad valley of the Merrimack River Watershed to the south and the White Mountains to the northwest.  "It's a very special place," noted Eileen Sleeper, Edwin and Katherine's daughter.  "It's a farm that has meant a great deal to my family over the decades and generations. Our parents would be pleased to know that the land that they loved will forever stay the same."
It's an honor for Five Rivers Conservation Trust to have played a role in helping the Sleeper family realize their conservation vision on this remarkable New Hampshire farm.