Canterbury – Nelson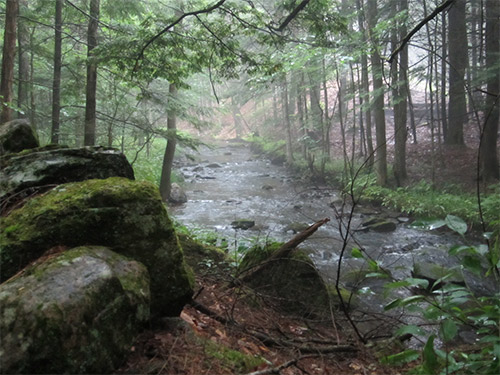 Clough Pond Road
15 acres of forest with a tumbling brook
Public access, no formal trails
December 2009
Tumbling through the property from north to south is Pickard Brook. The stream attracts a wide range of wildlife at all times of the year. Herds of deer are the most common, although bear and moose visit as well. Judy Nelson also keeps bird feeders at her house which bring a variety of birds to the property from woodpeckers to hummingbirds. At night she often hears owls.
In the warmer months it is possible to walk along old logging roads that can be reached from the driveway. Just south of the house the road splits, with one path leading along the stream, and the other continuing south and eventually connecting to trails maintained by the Sno-Shakers Snowmobile Club on Clough Pond Road. In the winter the logging roads make for nice snowshoe trails. Judy Nelson lives on the premises so if you visit the property, it is important to be respectful of the land and to keep noise levels to a minimum.
At just under 16 acres, the Nelson easement is one of the smaller easements Five Rivers holds,  but is no less important to our conservation efforts. As Judy saw more and more houses popping up nearby, she made the decision to place an easement on her property in order to preserve the tranquility of Clough Pond Road.
Tags: Canterbury