Why Our Work Matters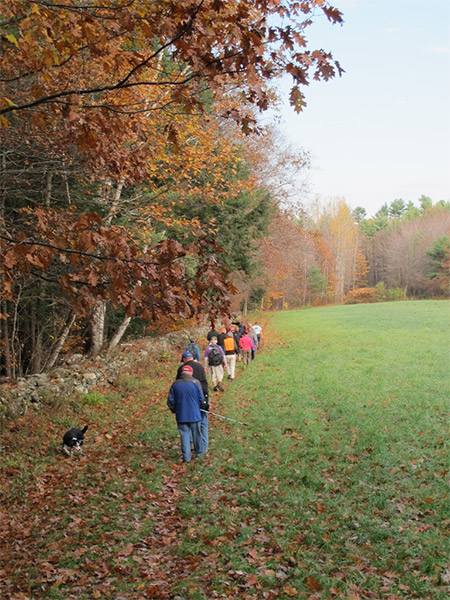 Let's keep New Hampshire beautiful! Productive farms, natural areas, clear rivers and streams, and the remarkable natural and cultural resources of our region can be conserved through local land conservation.
When land is conserved, we all benefit. The people who use and make their living from it, the plants and wild animals that live there, and all of us who may enjoy walking there and are inspired by our beautiful environment. These lands provide great opportunities for children. adults, and whole families to get outside, exercise, and learn from the natural world around us.
How We Conserve Land – Forever!
Five Rivers Conservation Trust conserves land by holding perpetual conservation restrictions (easements) on privately owned land or by owning land itself.
Conservation easements are legal instruments which restrict future development while limiting commercial uses to agriculture and forestry purposes. They require perpetual care by Five Rivers to ensure that the land owners respect the land and manage it according to current standards of care. This is accomplished through annual monitoring and taking corrective action, if needed.
Five Rivers also owns conservation lands. This provides us with the greatest ability to manage the property. If a gift, we can ensure that the conservation goals of donor are honored in our management.
When Five Rivers accepts responsibility for a property, we make a promise that the land will remain protected forever. This perpetual responsibility requires significant financial and human resources and investment in the organization's mission
How You Can Help Conserve Local Land
We are the only land trust focused solely on conserving land in the Greater Capital Region and have conserved local farms, trails, water resources, wildlife habitat, and landscapes that make our part of New Hampshire so special. We know that local residents are also passionate about preserving our scenic vistas, wildlife, and farmland. You are a natural partner for helping Five Rivers achieve additional conservation work and sustain our perpetual oversight of these conservation lands.
Please consider becoming a Five Rivers Member, joining the Conservation Leaders Society, or being a Business Supporter. Your support makes our work possible!