Salisbury – Schmidl/Owen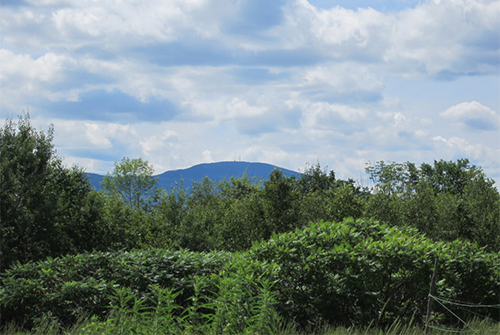 Off Loverin Hill Road
139 acres of fields and forest
Public access
April 2012
The 139 acres on Loverin Hill Road has a long, rich farming history and a bright future, thanks to Joseph Schmidl and Cynthia Owen. From the 1760s into the early 1900s, this land was home to Fairview Farm. However, over the following fifty years, most of the fields returned to forest.
In 2010, the land went up for sale and a developer came forward with a proposal to build thirty houses. When Joe and Cynthia heard about the potential development, they decided they couldn't let that happen and brought together the resources to buy the property. As Joe Schmidl pointed out, the proposed development would have more than doubled the number of houses in their corner of Salisbury. Their bid was accepted and immediately after, they entrusted the easement to Five Rivers.
The family plans to build a house on a lot next to the easement and put the land back into production on a small scale. Joe has a sugar shack and taps the maples on the property and there is already a cleared field that can be turned into pasture. There are plans for the sustainable harvest of white pine and red oak and the Schmidl-Owens also make blackberry and raspberry jam from the fruit bushes that line some of the property's trails. The bushes are for the family's use and so you should refrain from picking the berries during your visit. The basic rule is, a few for tasting is fine, but not for taking home.
The family wishes to share the land with the public; there are trails on the property that Joe periodically clears and are available for recreation, with the exception of motorized vehicles. Currently the trail on the western edge of the property is in the best condition. Walk about 10 minutes on this trail and you can make out a stone formation that is believed to be the cellar of the original farmhouse. Some of the other trails that run behind and alongside the field have deep skidder ruts that can fill up with water after a heavy rain. Joe says that the best time of year to visit the property is after the trees have lost their leaves in the fall and there are clear views of Mount Kearsarge and the surrounding landscape. The trails are perfect in the winter for snowshoeing and cross-country skiing and are nice for walking throughout the year. Some of the neighbors ride their horses on the trails so don't be surprised if you happen to come across them.
The property is in its early stages of development and, with all it has to offer already, it has great potential. With plans to further develop recreational access and production on the property the Schmidl-Owens hope to see the return of the Fairview Farm.