Dunbarton – Stone Farm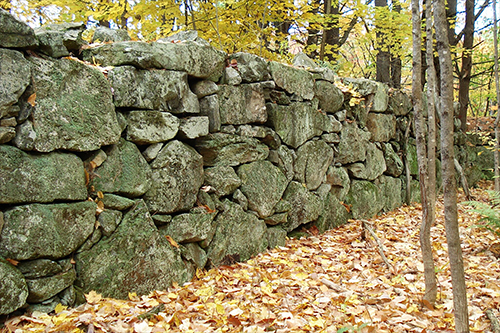 Stone Road
237 acres of farmland, fields, and forest
Public access, no formal trails
January 2017
The rich history of Stone Farm goes back to the 1780's when the first Stone ancestor farmed this land and is evidenced by spectacular foundations and cellar holes that tell the story of two centuries of life and farming in this corner of Dunbarton. Generations of the Stone Family raised agricultural crops from hops to apples to dairy cows. Today, hay from the farm feeds beef cattle. Logs and firewood are harvested sustainably. Visitors can see relics of buildings from long ago. Wildlife roams freely through the Stone Farm and surrounding conserved lands – now over 600 acres in all.
To learn more about the history of the farm, click here.
The Dunbarton Conservation Commission plans to create a public trail on the property in the near future, exploring some of the remarkable stone foundations and stone walls that speak to the land's past use.