Stone Farm – History and Stories
Friends of Stone Farm volunteer Linda Morse interviewed Judy Stone to produce a series of articles sent monthly to various email lists in Dunbarton in the spring and summer of 2016. What rich history they captured in these delightful stories about generations of the Stone family members on the Stone Farm!
1780-1793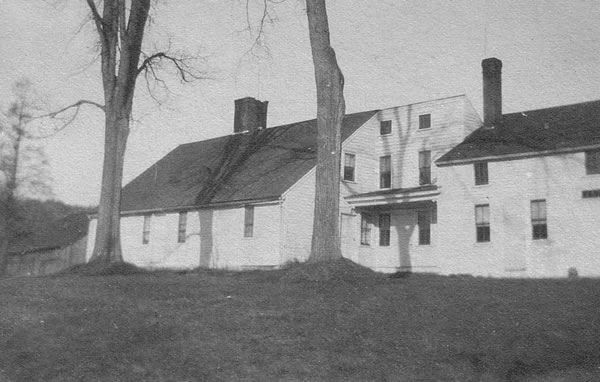 They say that every picture tells a story, and this one is no exception. It represents the origins of the Stone Farm that, over six generations, has become an important part of Dunbarton's history.
Our story begins…
around 1780 when a young man settles in Dunbarton, choosing a site to build his log cabin along a County Road that connected Canada and Boston. William Beard set about clearing his land of trees and the bountiful New Hampshire rocks with one specialty crop in mind: hops. His choice of crop is understandable since Beard was born in Hillsborough County, home to a burgeoning hops industry in New Hampshire in the late 1700s.
Stone family records show that Beard may have spent a few years cultivating his land before he could begin harvesting his hops. Growing hops was labor intensive. Beard would have plowed whatever nutrients he could find into the fields and then placed the hops plantings seven to eight feet apart. As the plants grew, he would have set poles, 13 to 20 feet in height, next to each plant for the vines to climb. The vines were "trained" or tied to the poles with woolen twine. After harvesting, the hops were kiln dried and then bagged for shipping. Beard loaded the bags onto wagons and hauled them by ox teams to Boston to be sold.
Beard married Deliverance Haseltine in 1782 and they had a daughter named Mary. In 1793, Beard replaced his log cabin with a new home that he opened as a tavern for a few years, welcoming travelers heading north towards Canada or south to Boston.
So how does the Stone family fit into this story? In a word, love. Eventually Beards daughter Mary met James Stone. The story goes that James had moved to Dunbarton from Henniker when he was 21 years old and was living with the Reverend Walter Harris, the first pastor of the Dunbarton Congregational Church. He and Mary married in 1809. James joined the Beard hops business that same year as a co-worker. He and Mary had 11 children including a son named James Haseltine Stone. In 1853, James H. Stone and his wife, Hannah Lund, built the current Stone homestead, known as "Stonehurst", south of the Beard homestead. This was the beginning of the Stone legacy.
The picture shows William Beard's 1793 farmhouse before it burned in the late 1920s. The impressive foundation and cellar holes of the various structures associated with the homestead are still visible today, some over 200 years old. They lie on a stretch of that old County Road now known as Stone Road, all part of the current Stone Farm acreage proposed for conservation. Plans are already in the works to keep the area clear of brush so that visitors will always have a clear view of this important historical site. Not much imagination is needed for visitors to truly step back in time.
1853-1883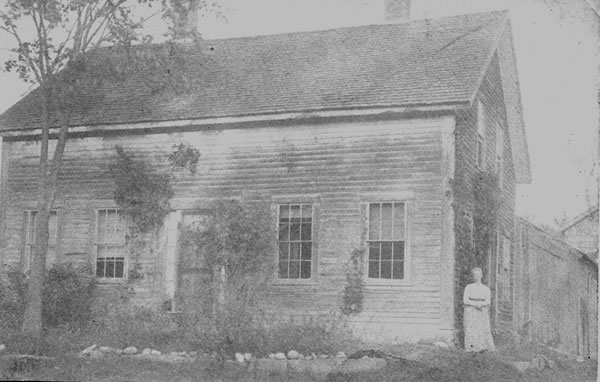 "It is not a big house," writes Mary Stone in 1953, reflecting on her unembellished, functional 100 year old farmhouse. Yet, she adds, Stonehurst is unique in Dunbarton. [It] is clothed with the distinction of having sheltered members of one family only, grandfather, father, son and grandson in turn."
James Haseltine Stone and Hannah Lund built the Stone homestead in 1853, nine years after they were married. It was built in a colonial style, with a center doorway and two chimneys. The wide pine floor boards most likely came from the massive trees cut to clear the fields. Similarly, the seven large stones used to build the impressive archway in the cellar that supports the kitchen chimney were surely dug from the earth on their land.
Hannah gave birth to their only son, James Ephraim in 1854. Over the years, James and Hannah and their family labored hard, as did all farmers back in the day, setting the stage for their land to be farmed for what would be generations to come. Stone family letters talk about harvesting hay, corn and potatoes; picking blueberries, peaches and apples; cutting wood and gathering chestnuts. Hannah made and sold tubs of butter (30 pound each). She boiled apples for cider (12 gallons at a time), smoked hams, made pickles, painted flower pots and sewed socks. James sold bushels of chestnuts gathered from the many trees on the farm, and he sold the cordwood he harvested each winter ($4 per cord.) James and Hannah sold what they could to provide income for the family.
When James Ephraim Stone was 23 years old, he entered Dartmouth College. After graduating with a degree in Chemical Engineering, he went to work in the textile industry in Lowell, Massachusetts and married long-time girlfriend Anne Hammond. We know that Anne was enrolled at Wellesley College in 1878 and 1879. Their son, James Hammond Stone, was born in 1882.
So here is where the Stone farm story nearly ended. Thirty years after building the farmhouse, James and Hannah were having trouble making ends meet. Hannah writes to Ephraim in March of 1883, "We have got to pay our debts faster or we shall get where we never shall pay. I would sell our farm now if I could and get out of this place." Perhaps because Ephraim and Anne were experiencing financial difficulties themselves in Lowell, due to the slowing down of the textile industry, they made the decision to return to Dunbarton later that year.
James Ephraim and Anne Stone made Stonehurst their home for the rest of their lives and became stewards of their 200 acre farm. The letters, ledgers, receipts, photos and diaries that have survived paint a fascinating picture of how this agriculturally productive farm operated 130 years ago. Much more on that and a Stone family tragedy in the next story!
1891-1909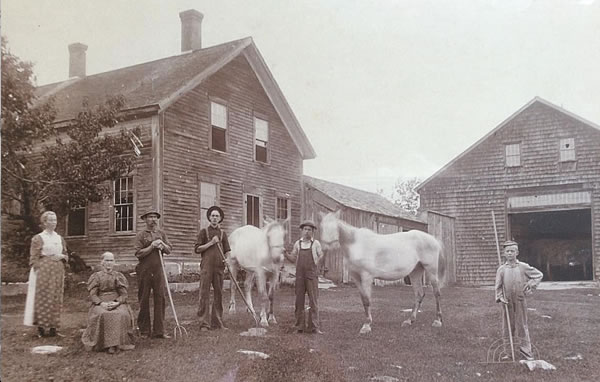 "Just ten years tonight since we were married. The three little Stones we have added to our home are asleep in their beds. God has been very good to us. May the next decade be as happy as the past, and spent in God's service in our prayer." Diary of Anne Stone, October 18, 1891
1898 Family Portrait, left to right: Anne Stone, Hannah Stone (seated), James Ephraim Stone and sons James Hammond Stone, Ried, and Earl.
In 1883, James Ephraim Stone and his wife Anne and their one year old son, James Hammond, left Lowell Massachusetts and moved into Stonehurst to live with Ephraim's parents, James Haseltine Stone and his wife Hannah. Anne gave birth to two more sons, Earl in 1884 and Ried in 1888. The two generations of the Stone family labored hard, growing and selling what they could, and the farm survived.
Ephraim writes in his diary about raising and slaughtering hogs (averaging 400 pounds) so that he and Anne could sell the fresh pork and sausage. He sold loads of hay grown from the now fertile fields. On one day, Ephraim delivered 2395 pounds and was paid $19.10. He sold loads of straw, cord wood and harvests of produce including strawberries, turnips and cabbage. There are receipts for shipping barrels of apples via railroad to Lowell. In the snowy winter months, Ephraim spent many days digging out the town roads for pay.
Ephraim and Anne were highly regarded by Dunbarton's townspeople. Ephraim was a life-long member of the Dunbarton Congregational Church, and he and his family attended as often as they could. Interested in local affairs, he was a member of the school board and, in 1893, was voted to be the moderator at the annual school meeting. He helped keep town, school and library records. Apparently, both Anne and Ephraim sang well. "They were endowed with true musical temperament. Their singing together endeared them to their friends and townsmen," wrote James Hammond Stone about his parents in a publication for Dartmouth College.
Yet, back in those days when medical knowledge was limited, families knew that death was never far away. Anne and Ephraim lost a baby girl who died shortly after birth. "Could it have been God's pleasure to have allowed us the little bud that was not permitted to open, our cup would have been well-nigh full," Anne wrote in her diary. Ephraim's father, James Haseltine, died in 1893, and the entry of the event in Ephraim's diary is interestingly matter of fact. Then, in January of 1907, Anne's clothing caught on fire as she was frying donuts. Ephraim burned his hands as he tried to put out the fire. Anne died a few days later.
Ephriam married close family friend Mary Burnham two years later and they carried on the farm. His three sons followed in his footsteps, attending and graduating from Dartmouth College, but only one, destined to be the father of Judy Stone's husband, returned to run Stonehurst and carry on the Stone family legacy. Find out who next month!
1907-1958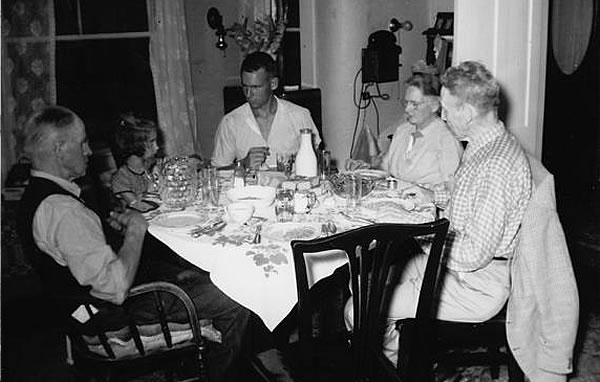 "…Dad scratches a hole in the frost on the window pane to peer, flashlight in hand, at the thermometer, and announces 'Eighteen below.' Forthwith my personal temperature plummets at least eighteen degrees." – From Winter Breakfast-Country Style by Mary Ireland Stone, describing rising on a frosty morning.
Photo of Earle, Mary Louise (daughter of James Hammond Stone), Jim, Mary , and James Hammond taken in 1958, the year Jim graduated from college.
Ephraim and Mary Burnham Stone's son Earle graduated from Dartmouth College in 1907 and returned home to the farm. In 1930 at age 46, Earle married Mary Ireland. Well educated herself, Mary had graduated from Plymouth Normal (a teaching college), then Boston University. The family grew. Mary gave birth to Marion in 1935, and then her son James was born in 1937 when Earle was 53 years old.
We know a good deal about life on the farm during this period because Mary was a prolific writer, with several articles published in various NH publications. And daughter Marion has many fond memories of growing up on the Stone farm as well as a clear recollection of the work her parents did to sustain the family.
Mary and Earle's days began about five in the morning. Earle rekindled the fire in the kitchen range while Mary lit the coal stove in the dining room. After a breakfast of coffee, cereal and bacon, it was time to head outside and begin the farm chores, beginning with feeding the animals. Dairy cows, pigs, chickens, two horses, a bull named Pete, cats and the farm dog were served breakfast each day. Everything the family ate was raised or grown on the farm. The farm animals provided the family with milk, butter, cream, ham roasts, sausage, bacon and, of course, eggs. All heavy work was made possible by Frank and Sam, their trusty horses.
Marion and Jim helped where they could and took on more work as they grew older. There were two gardens planted and tended each year, one in a big field near the house where corn, beans and potatoes were grown. A smaller garden closer to the house was for the vegetables, picked by Marion and Jim. The family harvested blueberries and grapes. Apples provided a saleable supply of apple cider. When the 1938 hurricane destroyed the farm's apple orchard, the family experienced a serious financial loss.
For Earle, farm chores had a seasonal rhythm to them. He milked the cows twice a day, plowed the fields in the spring, cut hay in the summer and ground up the cow corn to fill the silo. He cut wood for the stove and ice for the ice house in the winter. Every Friday, Earle delivered butter, cream and any available meat and produce on a regular route in Concord. While there, he picked up whatever supplies the farm needed. Mary had her own weekly schedule. On Monday, she churned butter. Tuesday was wash day, with ironing on Wednesday. Thursday was cleaning day, and Friday was devoted to getting everything ready for sale In Concord. On Sundays, the family relaxed a bit, going to church, playing games at home or visiting other farms or beaches at the nearby lakes.
Earle and Mary's son Jim broke the Stone tradition of attending Dartmouth College, graduating instead from the University of New Hampshire in 1958. Marion married the year before. Jim returned home and ultimately set the farm in a whole new direction. Find out what he did in the next story!