Year-End Annual Appeal Donation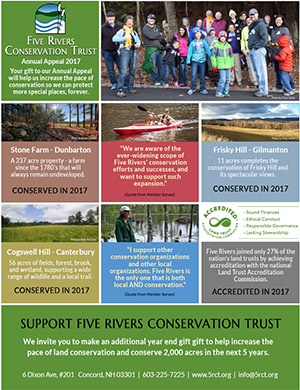 In 2017, your generous support helped conserve 300 new acres of land in our local area – prime agricultural fields, productive forests, trails for walking, learning and snowmobiling, habitat for wildlife, wetlands and streams. Together, we have protected the Stone Farm in Dunbarton, Moffett property in Canterbury and Frisky Hill in Gilmanton – forever. Thank you for making it possible!
There is so much more to do! Your gift to our Annual Appeal will help us increase the pace of conservation so we can protect more special places, forever. Our supporters care deeply about the natural places and open spaces in our communities. We invite you to make an additional year-end gift. Your generosity will help us increase the capacity for land conservation in the greater capital region!
Annual Appeal Donations
To donate online, simply complete the Annual Appeal form below and pay at PayPal. Every donation makes a difference! Feel free to indicate an amount different than those below.
If you prefer, you may download and print our 2017 Annual Appeal slip and mail it in with your check to:
Five Rivers Conservation Trust
6 Dixon Avenue #201
Concord, NH 03301
Note that when you pay online with PayPal, you may use either your own credit card number OR a PayPal account.
Gifts of Stock or IRA Distribution – If you would like to contribute to Five Rivers' Annual appeal, giving shares of stock or mutual funds may allow you to take full advantage of your investment earnings by avoiding the tax on your capital gains. Alternatively, if you are 70 ½ or older, you can roll over up to $100,000 from an IRA directly to a qualifying charity without being taxed. Click here for more information on both these options.
Your Annual Appeal contribution is tax-deductible. If you have questions, please contact us at 603-225-7225 or at info@5rct.org.
Thank you for your support!
Online Annual Appeal Form