Hopkinton – Sweatt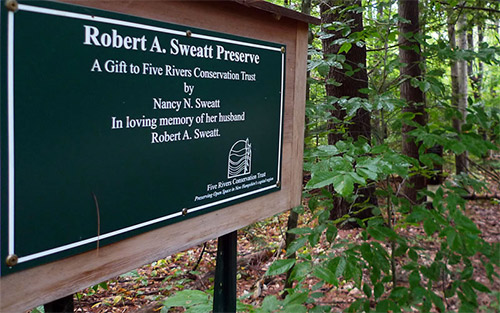 Trail Map
73 acres of mixed forest
Public access
November 2003
The Sweatt Preserve Nature Trail is located alongside Old Stagecoach Road near Hopkinton Village, a dirt road that rises from Briar Hill Road up to Gould Hill. Consisting of a 2-mile pathway marked by a roadside sign, the trail leads hikers and snowshoers deep into the forest, over brooks, up a slight hill, around a loop, and back to the start. Nature trail brochures are available at the trailhead, providing an overview of the property's history and natural features.
This woodland trail is a great one for kids, with its two footbridges over a brook, hidden away in a hemlock grove at the bottom of a steep ravine. After the stream and a short climb, the trail loops back through thinly wooded former pasture land edged with stone walls.
The Sweatt Preserve was generously given to Five Rivers Conservation Trust in 2003 by Nancy N. Sweatt in loving memory of her husband, Robert A. Sweatt. Robert was a decorated veteran of World War II. During his many years in the service, he lived in various locations around the globe. His love for his boyhood town of Hopkinton and his land on Old Stagecoach Road never diminished. He and his wife were committed to preserving this land as a preserve for all to enjoy. The trail was built and maintained by volunteers from Five Rivers Conservation Trust.
Tags: Hopkinton