Webster – Phelps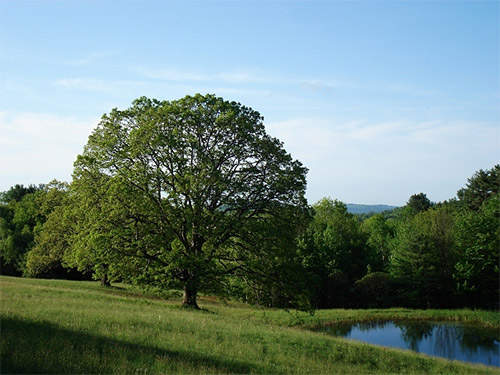 Rt. 127 and Pearson Hill Road
12 acres of fields and forest
No public access
August 2013
The Phelps property contains productive forest, supports a habitat for migrating barn swallows and provides a scenic view from both Route 127 and Pearson Hill Road, gathering enough natural resources criteria to be a protected area, and borders the State-designated Currier and Ives Scenic By-Way.

Divided between field and forest, there are a few very old stately oak trees in the mowed area, a small pond and plenty of grassland used by migratory birds for feeding and resting. The property also abuts conserved land, some of which is privately owned and some of which is owned by the town and is also under a conservation easement. Much of the area was owned by Phelps' extended family for many years, including the Mock Forest.

This easement was possible through a generous donation of Ms. Phelps and the strong support of the Webster Conservation Commission. Five Rivers and the town of Webster are especially pleased to have completed their first project together. The Phelps easement brings the number of properties protected by conservation easements, which are held by Five Rivers, to 52.