Five Rivers Staff
Beth McGuinn, Executive Director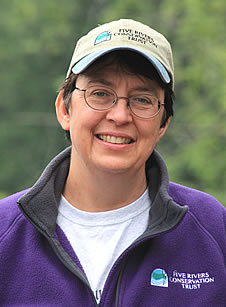 Beth McGuinn brings a wealth of experience and knowledge to Five Rivers. A long-time member of New Hampshire's conservation community, she has held land conservation and stewardship positions in nonprofit and government entities, most recently as the Land Protection Specialist for Ausbon Sargent Land Preservation Trust in New London.
McGuinn has facilitated all aspects of land conservation: identifying conservation priorities, coordinating fundraising campaigns and raising grant funds, working with landowners. She has considerable experience working with communities and enjoys community work.
About her interest in the job McGuinn said, "I've lived in three of Five Rivers' communities and worked in eight of them. This is where my sense of place is strongest, and where I'd like to apply my conservation experience and leadership skills."
McGuinn is on the Board of the NH Land Trust Coalition, a licensed forester, and a strong communicator. She lives with her spouse Ruth Smith in an energy efficient house they built together and raises chickens, vegetables, and trees for fruit and firewood.