Our Story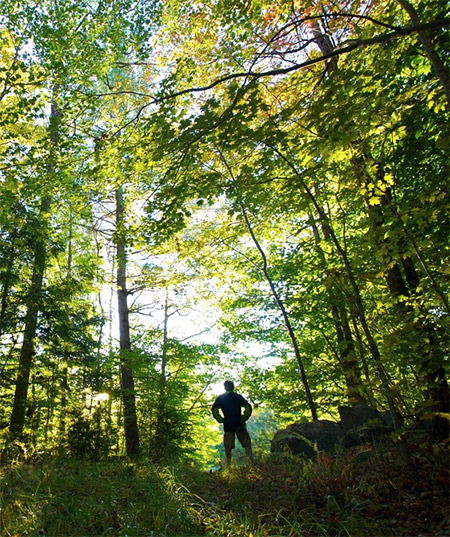 Five Rivers Conservation Trust, headquartered in Concord, New Hampshire, is a non-profit organization dedicated to conserving open space across the greater Capital Region of New Hampshire. This beautiful rolling landscape is drained by five waterways that converge in the Concord area – the Merrimack, Contoocook, Blackwater, Warner, and Soucook Rivers. It is a region of picturesque country villages and a delightful mix of fields and forests, farms and wetlands, and other special places. Through conservation easements and land ownership, Five Rivers is doing its part as an active land trust to help keep those places intact for future generations.
History
Founded in 1988 as Concord Conservation Trust, Five Rivers Conservation Trust adopted its present name in 2001 as a reflection of an expanded service area that today accommodates the conservation needs of seventeen communities. Working closely with a growing number of property owners who care deeply about conserving their land, Five Rivers has been pleased to experience a tremendous surge of activity in recent years. Conservation easements, which keep the land in private ownership, have proven to be a particularly popular and effective tool for ensuring that land is conserved over the long term. Our organization now serves as the legal holder of conservation easements on more than 70 properties, totaling over 4,400 acres. We also own one property of 73 acres, in Hopkinton, which is a significant conservation asset for nearby residents and wildlife.
Our organization is committed to play an active role in helping to conserve a landscape that adds richness to the lives of both residents and visitors. We welcome your support for Five Rivers' important mission.
Mission and Goals
Mission

The mission of the Five Rivers Conservation Trust is to preserve and protect important open space lands in seventeen towns(1) within five New Hampshire river watersheds(2) for present and future generations.

Goals

The goals of the Five Rivers Conservation Trust are to:
Protect the undeveloped lands along the rivers and water bodies within our region, as well as other parcels of land with significant natural resource attributes.
Work locally, protecting productive farm and forest lands, wetlands, scenic areas, special natural communities, wildlife habitat, cultural features, rivers and streams, lakes and ponds.
Provide recreational opportunities, maintaining clean water supplies, limiting sprawl, and preserving biodiversity.
Contribute to the preservation of the ecological integrity and quality of life that make the Five Rivers Conservation Trust region an attractive place to live and work.
Establish a permanent network of greenways throughout the region linking together conservation and natural resource areas.
Act as a resource to other towns within the confluence of five rivers that are not currently being served by existing land trusts.
Facilitate the protection of natural areas that cross municipal boundaries.
(1) The Towns in our region include Belmont, Boscawen, Bow, Canterbury, Chichester, Concord, Dunbarton, Gilmanton, Hillsborough, Henniker, Hopkinton, Loudon, Northfield, Pembroke, Salisbury, Warner, and Webster.
(2) The five rivers that come together and are covered by Five Rivers Conservation Trust are the Blackwater, Contoocook, Merrimack, Soucook, and Warner.