Five Rivers' Winter Wildlife Walk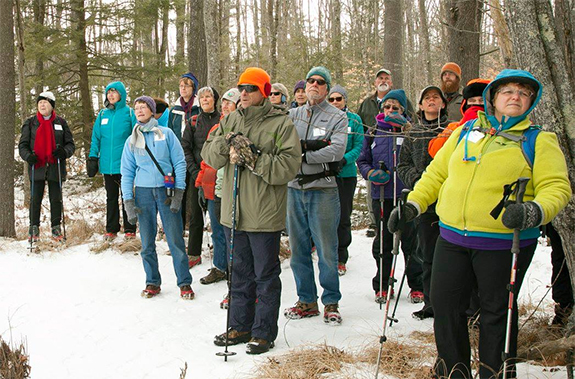 February 5, 2017 – In early February, Bob Quinn, a well respected local birder, naturalist and field trip leader guided Five Rivers' Winter Wildlife Walk to the newly conserved Sanborn Road property in Loudon. All along the way participants learned about birds and tracks and wildlife. Cedar Waxwings flew from tree to tree eating fruit from a crab apple tree. Coyote tracks lead in a straight line, with purpose, to conserve energy in the cold and snow. Tiny mouse tracks with a telltale tail drag scurried between openings in a stone wall. Bobcat tracks with round imprints and no sign of clawmarks crossed the road. A walk on the pond allowed discovery of mink tracks across the dam, a view of the conserved property's pond frontage and a wide variety of wildlife sign.
Forty participants hiked back on the woods road to Sanborn Mills Farm where hot cider, sweet goodies and conversation in the warmth of the farmhouse ended the day.
Thanks to Bob and Sanborn Mills Farm for collaborating to make our Winter Wildlife Walk a success.
Thanks to sponsors Revision Energy and Baron Major Brands for making the event possible. And thanks to Colin and Paula Cabot for conserving the Sanborn Road property!