WOODLANDS, WETLANDS, AND WILDLIFE TOUR – BOSCAWEN, NH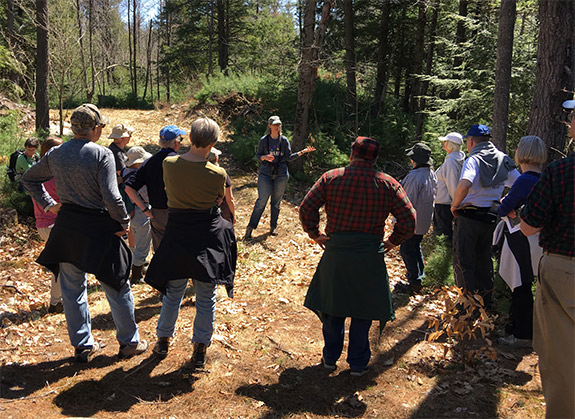 April 24, 2017 – On a glorious day in April, Five Rivers' friends and neighbors of our first conserved property in Boscawen, joined us at John and Barbara Keegan's property to explore the wetlands, wildlife and woodlands on site. Forty nine folks learned that the wetland on this property supports many wildlife species, including moose who munch on wetland plants, they saw a gigantic porcupine "condo" in an outcrop of ledges, figured out the age of young pine trees by counting the whorls of branches, and explored a vernal pool that supports spring habitat for amphibians.
The Keegan Conservation Easement is a magnet for wildlife and it will remain so because Five Rivers and the Town of Boscawen teamed up with the Keegans to prevent future development of the property.
Thanks for this successful outing go to our hosts John and Barbara Keegan, the Boscawen Conservation Commission, Amanda Stone and Ruth Smith, our presenters, Revision Energy, our sponsor and an dedicated Outreach Committee, and willing shuttle drivers, photographers and other volunteers.