Canterbury – Blackmer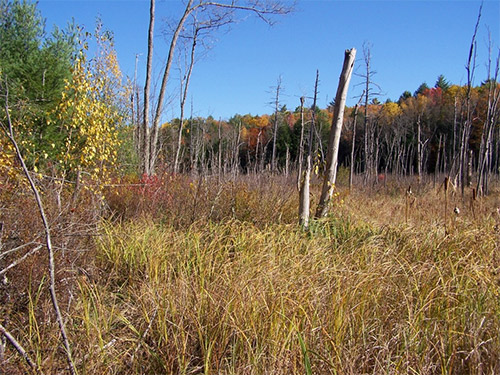 Hackleboro Road
15 acres of wetlands, brook, and mixed forest
No public access
September 2007
Thanks to the generosity of a Canterbury family, a scenic fifteen-acre forest with a remarkable wetlands has been permanently protected through the donation of a conservation easement in 2007 to Five Rivers Conservation Trust.
The former owner of the Canterbury land, Joan Blackmer, passed away in 2006. Appreciating how much she loved the natural world and her Canterbury property, her family felt that the land's long-term protection would make a fitting tribute. Therefore, they created a conservation easement on the land and donated the easement to Five Rivers which now serves as the easement holder. Through its deed restrictions, the easement places permanent limits on the land's development, ensuring that the land's conservation values remain in perpetuity.
The property has a large wetlands. Along with a stream, meadow, and surrounding forest, the protected property provides rich habitat for a variety of wildlife. Located along Hackleboro Road, it serves to complement other town conservation lands nearby. The vision of the Blackmer family to ensure a fitting legacy of land stewardship for their loved one has truly been accomplished through the permanent protection afforded by their generous donation of a conservation easement.