Hillsborough – Coffin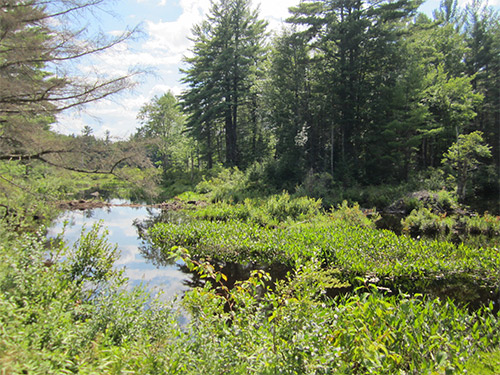 Bog Road
50 acres with a stream, two meadows, and mixed forest in close proximity to Farrar Wildlife Management Area
Public access, no formal trails
May 2012
When Ken and Vicki Coffin bought their house on Bog Road in 1989, the accompanying land and its future development value was part of their retirement plan. Then, on an overcast, rainy night in April of 2000, Ken was reading Swampwalker's Journal by David Carroll. He came across a chapter describing the mating habits of spotted salamanders which happened to occur on nights like that one. Out of curiosity, Ken decided to go outside. Spotted salamanders are a rare sight because they spend most of their time underground, only emerging after a rain to forage or mate. So you can image Ken's surprise when he saw hundreds of the salamanders, just as Carroll had described. Ken and Vicki realized how important the marsh was to so many species and figured out that what they wanted to do was preserve the land, not sell it.
It took more than a decade to make that plan happen. Ken and Vicki contacted several groups but were limited by their desire to keep hunters and trappers off of the land. Eventually they attracted the attention of the Humane Society Wildlife Land Trust and Gordon Russell from the Russell Foundation. It was Russell who dedicated funds to the project and first brought Five Rivers out to the marsh. With additional support from the Hillsborough Conservation Commission, Five Rivers closed on the easement in May, 2012 with a cover easement for wildlife going to the Wildlife Land Trust.
The easement protects a large section of wetlands, fed by Sand Brook and spring water coming down from the mountains, and the nearby woods. To the north, on the eastern side of Bog Road, is the large, state protected Farrar Marsh and to the south lies Fox State Forest. The Coffin's property in between has helped create a largely uninterrupted wildlife corridor. There are several active beaver lodges in the marsh and Ken and Vicki have reported seeing bobcats, moose, and all kinds of songbirds and raptors. There are no trails on the property but at the southern end of the easement, you can get a clear view, from the road, of the marsh and a couple beaver lodges.