Northfield – Conde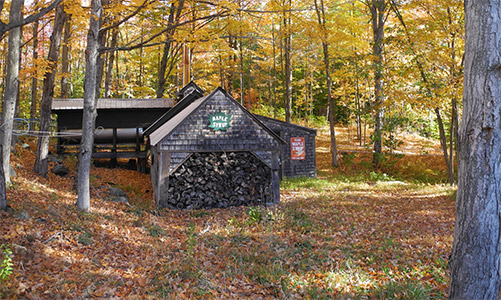 Bean Hill Road
88 acres of farmland, fields, and forest
No public access
December 2015
Through the Conde Easement, Five Rivers conserved Bean Hill Farm, a historic farm located on both sides of Bean Hill Road in Northfield. Eliza Conde donated an 88 acre conservation easement on the farm that she and her late husband John Conde have carefully managed since 1972. Eliza's generous donation of the conservation easement carries out a plan the Condes had for the farm, ensuring the Bean Hill Farm will never be developed and will continue to be available for farming and forest management. Five Rivers accepted the conservation easement and responsibility to keep the land conserved forever.
Eliza and John raised three sons on the farm, and together the family raised cows, chickens and pigs. Today, Bean Hill Farm produces raspberries and blueberries for pick your own harvest by the public, plus quality hay, maple syrup and timber products.  The property has been a certified tree farm since the early 1950's when the program began.
Wildlife, including deer, moose, bear, foxes, coyote, porcupine, woodchucks, hawks, great blue heron and many turkeys find valuable habitat on the farm's fields, forests, wetlands and stream. The property straddles both sides of Bean Hill Road and conserves 3,500 feet of scenic road frontage.
John, who died in 2015, was the Merrimack County Forester from 1970 to 1988 and later worked as a consulting forester, helping landowners throughout our region manage their forest land.  He managed his forest for sustainable production of timber, firewood and maple syrup. Eliza was named Northfield's Citizen of the Year in 2012 and has served as Secretary of the Northfield Conservation Commission.
Conservation of Bean Hill Farm is Five Rivers Conservation Trust's first conservation project in Northfield, a town added to our service area just this year. Northfield is a natural geographic fit for Five Rivers, as we already have conserved land in Belmont and Canterbury.
Bean Hill Farm is a great example of a family farm providing fresh local products to the local economy and improving the forest resource through good management. Eliza's donation of a conservation easement is a generous gift that will benefit future generations as well as all who know and love the farm today.
The conservation easement ensures that Bean Hill Farm, which remains privately owned, will never be developed. Five Rivers takes responsibility to conserve the land through regular monitoring and a commitment to ensure that all future owners honor the conservation commitment made by Eliza in conserving this farm.
Tags: Northfield